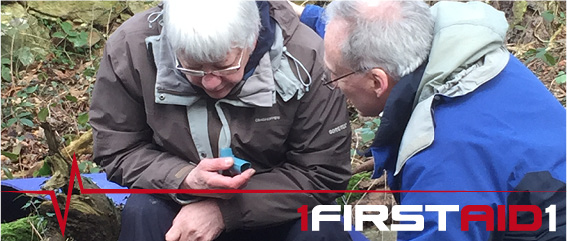 Emergency First Aid at Work
1 Day Course
£85
Course Dates and Locations
2021 dates:
January 9th (Sat)    2 Spaces available – venue is Rowen, near Conwy –

CANCELLED DUE TO COVID-19

February 11th (Thur)   2 Spaces available – venue is Llanberis –

CANCELLED DUE TO COVID-19

March 13th (Sat)     Full
March 18th (Thur)     Full
April 22nd (Thur)   Full – venue is Rowen, near Conwy

(to join the waiting list for cancellations, text or email us)

May 22nd (Sat)   Spaces – venue is Rowen, near Conwy
June 24th (Thur)   Spaces – venue to be confirmed
Autumn Courses will be added in June 2021
Book now:
If you need help booking and paying, click here.
About our courses
As from August 2020 all our First Aid courses are COVID-19 secure courses, to see a summary of this click here.
First Aid training with the REC scheme is easy and fun. The course is progressive by building on each session, introducing new scenarios to test all techniques. 

The Emergency First Aid at Work training course is designed to introduce a systematic way of first aid for managing casualties. Topic learning and practical's intermixed with scenarios of real life situations.

Course Content:    
Principles of First Aid.
Roll of a First Aider.
Preventing cross infection.
Recording incidents and accidents.
Vital signs.
Emergency Action & Safety– a methodical system to manage emergencies safely.
Dealing with an unconscious casualty (including seizures).
Safe Airway Position & Casualty care.
Airway Problems including choking – recognising and dealing with airway problems – managing the airway.
CPR – cardiopulmonary resuscitation including AED (Automatic External Defibrillator) training. Inc COVID-19 secure CPR.
Circulation Problems – chest pain, collapsing, heart stoppage.
Unconsciousness – collapsing, what can it be? What do you do?
Bleeding – treating bleeding from open wounds

.

Shock – treating a casualty who is suffering from shock.

Provide appropriate first aid for minor injuries (including small cuts, grazes and bruises, minor burns and scalds, small splinters).
The 1 day Emergency First Aid at Work certificate is valid for three years.
How to book and pay:   
Choose the training course that you would like to to attend from the drop down menu.
Enter your preferred date in the empty box below.
Enter your mobile number in the next box (when we email you course information it sometimes goes into your junk mail folder, so if we don't hear from you we'll text message you instead!).
Read the terms and conditions – click here
Click add to cart and this will take you to the paypal payment processing page. (You don't need a PayPal account to pay, you can use a credit or debit card)
If you have payment problems, please get in touch 07738 288 552.
If you want us to invoice you for a course, please email or ring us with the course date and invoicing details. Our terms are strictly 28 days.